Mansfield
Mansfield House is named after Katherine Mansfield, a New Zealand writer of short fiction.

Welcome to Mansfield House - home of Dog, 300 students and 20 staff. We inhabit the extreme southern edge of the school, nestled close to one of the few remaining pieces of bush left on the reserve.
We take our name from one of New Zealand's eminent authors and actively celebrate days of significance in the life of Katherine Mansfield.
Our house reflects the diversity of the students within it.
Mansfield House has its own guide dog puppy!
Mansfield House are delighted to welcome their own guide dog puppy – Leah. Leah is 11 weeks old and will be a regular part of daily school life for the next 12 months. She lives with Mansfield staff member Mrs Tina Mair who is her official puppy raiser.
Leah will hopefully go on to become a Guide Dog for the Blind in the future, and in the meantime is becoming well socialised in our busy school environment. Bells, crowds, assemblies, tuckshop queues, musical instruments, basketball games will all become familiar to her over the next few months. So far she has slept her way through several lessons and enjoyed meeting and greeting staff and students around the school at lunchtime.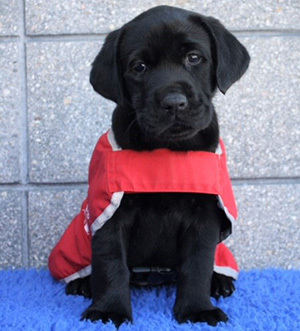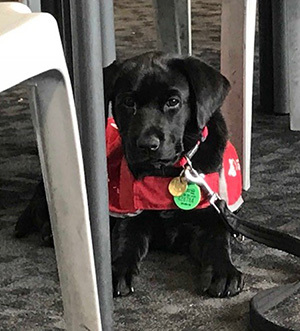 Mansfield History
Mansfield House is at the southern end of the school by the gully. The original house was dropped in by helicopter in 1983 to meet the needs of a slight and temporary population bulge! Mansfield was a collection of prefabs which was why it was different from the other houses and in theory could be dismantled if it was ever required.
Construction on a new and improved Mansfield House began in Term 4 2018. The official opening of the new Mansfield House took place on Thursday 15 August 2019. The guest speaker for the event was 1988 House Captain Raelene Castle.
Article link: Rebuilt Mansfield House Officially Opened
The first House Leader was Rhys Davies who went on to become an Assistant Principal. Mr Davies established the founding values of the house and it was named after New Zealand's famous short story write Katherine Mansfield. At the time there was a popular newspaper cartoon strip called Footrot Flats which depicted the quintessential New Zealand rural scene. As Katherine Mansfield talks about man's faithful friend, the dog, and Dog was a leading character in the cartoon it was serendipitous that Dog be suggested as the mascot for the House. Murray Ball, creator of the series, kindly gave his permission and thus Dog entered the daily life of Mansfield. It was also decided that purple become the House colour as it was the Imperial colour.
Mr Davies was succeeded by Mrs Alison Glasgow-Palmer who brought new life to the House. Nobody from those eras will forget Mansfield marching into the athletics sports accompanied by a brass band ( sometimes a bit depleted in numbers). Mrs GP (as she was known to all) was a talented arts and crafts person and with the help of Justine Hawkesworth the décor in Mansfield took on a distinct "purple" tone. Competitions celebrating the life of Katherine Mansfield started along with the biggest birthday bash in town when October came around. Move over Taihape – Gumboot throwing was a sport here first!
When Mrs GP left to have Katie it was a very sad bunch of students who farewelled her on maternity leave. She was ably replaced by Mr Gary Olver who brought his own South African influence to bear. However he didn't quite fit into the "Dog" costume so that had to be put aside for a while. House assemblies had an interesting level of humour at that point and interhouse competition was fierce – a 6ft 3in "saffi" spurred on the worst athlete!
Upon Mrs Gp's return to the House, Katie became a much loved part of the place and she was often seen running around on sports days etc with her purple wellies and a collection of purple clothing. She was always happy in the company of the Mansfield students and totally spoilt. Alas Mrs GP left again to spend more time with Katie and Mrs Mary Kearns was appointed to be the new House Leader.
Mrs Kearns brought with her a range of skills from previous schools and also time spent in Japan. Little pieces of Origami began to make their appearance around the house and as she taught within the house there was a lot of Japanese language to be heard as well. However she too left to have a baby and once again Mr Olver stepped into the breach. However he was then appointed to the position of Head of Science at Papatoetoe High School so Mrs Kenzie McConnel, Deputy House Leader of Kupe, was asked to step in and hold the fort until Mrs Kearns returned.
That was not to be as Mr Kearns was offered a job in Singapore so the entire family moved off there leaving Mrs McConnel in charge. In February 2012, Mrs McConnel stepped down and past-pupil Mr Davidson was appointed the new House Leader of Mansfield. Mansfield has continued on its way, keeping the best of the old and introducing some of the new. The staff and students alike are fond of their "comfy old building" which has recently had a massive upgrade both inside and out, engendering a large degree of pride.
As our motto says " I want to be all I am capable of being" and all students are given the opportunity to do just that in whatever field they choose with support from all within the house.
Katherine Mansfield
Born Kathleen Mansfield Beauchamp on 14 October 1888 in Wellington, New Zealand. Mansfield's first published stories appeared in the Wellington Girl's College magazine. She moved to London in 1902 where she attended Queen's College, London. After finishing school in England she moved back to New Zealand where she began to write short stories. Two years later she moved back to London where she took on the pen-name Katherine Mansfield.
Katherine Mansfield is considered one of the best short story writers of her time. During her short life she published three volumes of short stories. Even after her death she has worldwide appeal with her work being translated into 26 languages.
The Dog
The Dog, one of the characters from the famous Footrot Flats cartoons by Murray Ball, was adopted by Mansfield as their loveable, mischievous mascot. A soft toy "Dog" is awarded to the winner of our regular challenges which occur on house assembly days.
The Story of Murray Ball, Footrot Flats and the Dog
For many years now New Zealanders have been greeted in the morning papers with the Footrot Flats antics. Many would say it is now fully entrenched in our culture so it is understandable that most Kiwi's would at least know some of the characters involved. Also given that fact that we have also been exposed to a Movie and popular song as well as books on the subject.
But Murray Balls Footrot Flats has also had an impact on people in other countries like Australia which may be due to the song written by Dave Dobbyn wich became a hit in that part of the world. However if you surf the net you will also find web pages dedicated to Murray Ball's characters put there by people in other countries such as Germany.
Ball was born in Fielding in the Manawatu in 1937. He spent the early part of his life in New Zealand, Australia and South Africa. His cartooning career started in childhood, copying Walt Disney/Tom and Jerry characters as a child and he maintained an interest in cartooning through his youth. While waiting for his first year of university to start he took a job with the Dominion in Wellington as a reporter. He didn't enjoy that so after three months he left and took up a position as a cartoonist with the Manawatu Times. He stayed for three years then left to be a freelancer. While he doesn't regret that decision, times were financially tough, and he had to take up teaching for three years when he was low on cash.
In 1968 he and his family left New Zealand for England. While in England he freelanced, with his most regular employment being with the children's book publishers DC Thomson of Dundee. He credits feedback he received from the editors with helping hone his craft. He achieved success in having his "Stanley" strip accepted by the English satirical magazine, Punch. "Stanley" became the longest running strip in the history of Punch and was also syndicated in the US, Australia, New Guinea and Italy. After five years he returned with his family to New Zealand, continuing to submit work to Punch until a postal strike put payed to that as a source of regular income.
Ball's real success came with his next continuing strip "Footrot Flats" which made it's first appearances during early 1976 in the Evening Post. Set on a mythical New Zealand farm the strip focused on the adventures of an always optimist farm dog, his owner Wallace (Wal) Footrot and the various neighbours/family/animals that inhabit the countryside. Ball and his wife, Pam, lived at that time on a farm on the outskirts of Gisborne in Poverty Bay and it was from here that Ball got a lot of his ideas and models for his characters.
The nostalgic aspect of the rural setting, one that few New Zealanders have experienced but somehow feel connected to, with it's links to rugby and good keen blokes gave the strip a strong local appeal. Ball kept it focused on this mythical world of good keen blokes whose interests lied with rugby, racing and beer.
Ball's art style, which he described as "Hard downwards pressure and intense effort" was clear and fresh, giving the animals expressive features while keeping them true to their animal form. Dog (whose real name we never learned due to his violent reaction to anyone who attempted to utter it) was the audience's guide, commenting on the events and people that surrounded him.
The success of the strip saw it syndicated in New Zealand, Australia, Sweden, Denmark, Finland, Norway and Germany. There also followed a musical, a theme park in Auckland for a short period and a film in 1986 which drew the largest opening week box office of any film release in New Zealand at that time. The theme song, "A Slice of Heaven" by Dave Dobbyn became the biggest selling record in Australia in 1987 and the film went on to win many awards.
Ball calls cartoon "Disciplined dreaming", commenting in 1990 that "...the heart of a cartoon is the idea, an artist can create a painting, hang it on the wall and be satisfied with what he has achieved even if no-one else sees it. In cartooning you must get a human reaction to the idea. The task of the cartoonist is to translate his idea into a drawing that will have impact".
While Ball ceased work on "Footrot Flats" several years ago it lives on in over 24 volumes of collections of the strips that continue to appear in the top selling list in New Zealand, and as a local icon. Ball has ceased producing cartoons on the scale of his daily schedule of "Footrot Flats" but has published the occasional cartoon/text work.