Lumin Zheng from China
As one of the International students, I have extremely enjoyed my school life at Macleans College.
The College has teachers with high standards, there are lots of different co-curricular activities and it provides us with a good all-around education.
The staff at the college always do their best to give encouragement and attention to the International Students which makes us feel warm and secure.
I'm studying physics, chemistry, mathematics and esol this year and I am the Dux in NCEA. I am profoundly grateful to all the teachers and my friends. Thank you for your notice and support.
There are lots of fun activities in my school life as well. I joined the intercultural choir last year and participated in a few performances and became a member of Upham House choir this year. I've also participated in some outdoor activities like the year13 school trip and school ball.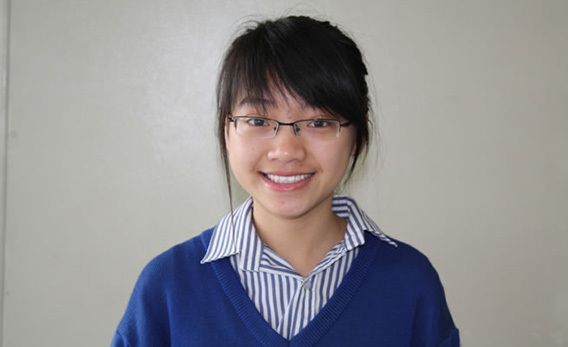 I'm an academic prefect of Upham House and I provide tutorial for my peers. I've done the 40 Hour Famine this year and helped our house to sell poppies for ANZAC Day. During the school holidays, I volunteered to help the teachers in a kindergarten.

I'm leaving Macleans College at the end of this year and I am going to university to study Early Childhood Education in Auckland.
After two years life away from home, I have now become more independent and mature than ever before. Apart from the help from school, this is due to the love and support from my homestay.
I'm living with a young Chinese couple with their 5-year-old daughter and a new born baby boy. It is a beautiful big house a few hundred metres away from Macleans College where the surroundings are quiet and peaceful. It is, of course, very convenient for my studies. My bedroom is upstairs with a perfect scene when you look through the window. It is not hard to imagine what a warm family it is.
As soon as I arrived, I was warmly welcomed just like one of their family members who came back from a journey. The kindnesses on their faces made me feel secure and I know I'm going to have a great time with this family. Rather than parents, they are more like my older brother and sister and they treat me as their own younger sister. I could share my happiness and worries with them and get advice from them when needed. They don't care how much I eat but encourage me to eat because they think I'm too skinny. My homestay think that I am not someone who rents their house but rather a family member who lives with them and whom they care about.
Although I just moved in a few weeks ago, they make me feel that this is my real family. I will never regret making a decision to move into this house and I am sure it will be a valuable memory in my life.
Best wishes to all the members at Macleans College.